Leather Dog Collar with Turkish Evil Eye Beads by The Wandering Dog
Beautifully crafted leather dog collar featuring handmade Turkish evil eye beads by The Wandering Dog.
Did you know that the Turkish evil eye is a lucky charm protecting the wearer against any misfortune? Keep your darling dog protected (and not to mention, stylish) with this unique leather collar adorned with handmade Turkish evil eye beads.
Details -
Made from soft cow nappa leather (black on the outside and red on the inside – creating a stunning contrast), with red leather thread holding 8 traditional glass beads securely in place, and finished with a red stitching.
Sizing -
Medium: 13-16 inches; 1 inch wide
Large: 16-20 inches; 1 inch wide
Extra Large: 20-24 inches; 1.25 inches wide
Note: The measurements refer to the length of your dog's neck. Use a tape measure to measure the base of your dog's neck for a comfortable fit. For example, if the measurement is 18 inches, then you will need a Large collar, which is neck size 16-20 inches.
Shipping -
We ship from the U.S. via First Class Package and, if you buy 2 collars from The Wandering Dog, your second collar will ship for free.
I travel the world to find inspiration and special treasures to create unique and stylish pet accessories. Each accessory is designed with the urban pooch in mind, and will be inspired by a place and accompanied by a story.
More designs to come from The Wandering Dog so check back in soon!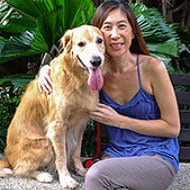 Judy


For More Information or To Purchase, visit: